DEFENSIVE, OFFENSIVE AND EVASIVE DRIVING COURSE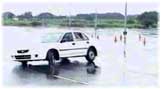 This dynamic course is directed towards Executive Drivers and Executive Protection Agents. Students are taught to maneuver a vehicle through high speed obstacle courses. Techniques such as 180 degree reverse U Turns and 180 degree forward U Turns are taught. This course prepares drivers for possible ambush or kidnap for ransom scenario. Made up of 30% tutoring and 70% practical instruction, it is held at Angeles, Pampanga, Philippines. Packaged to include food and accommodation.
For best viewing, please click on 'MOVIE' button on top before viewing next video.
Designed for 56Kbps or higher Internet connection speeds.