RAPPELLING 2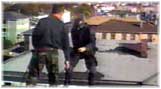 Various techniques in climbing down a targeted hostile area like windows, buildings and roof tops that puts rescuers in a unique vantage point to surprise a hostage taker.
For best viewing, please click on 'MOVIE' button on top before viewing next video.
Designed for 56Kbps or higher Internet connection speeds.