TACTICAL SHOOTING & MARKSMANSHIP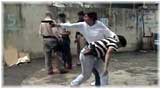 Directed at Close-in Protection Agents, Police Units and Armed Forces. This course motivates and test even the avid marksmen. Taught by a mixture of Ex-Patriot and Filipino instructors, the course outline can run from 1 to 5 days and cover a wide range of skills. Our Vice-President for Operations and Training heralds from the best counter terrorist unit in the world and will put you through the most realistic training you have ever experienced. Instruction will cover such topics as dry firing, static firing, dynamic, awkward shooting, immediate action drills, room entries, fire and movement, etc. Courses can be held anywhere in the world that has licensed gun ranges.
For best viewing, please click on 'MOVIE' button on top before viewing next video.
Designed for 56Kbps or higher Internet connection speeds.