LIVE ROUND
ROOM ENTRY & INSERTION 3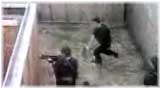 Training for taking down terrorists with hostages using live ammunition. This will simulate actual rescue and combat scenarios in the event of a takedown.
For best viewing, please click on 'MOVIE' button on top before viewing next video.
Designed for 56Kbps or higher Internet connection speeds.